A set of garments that is usually comprises a jacket, skirt and trousers all of the same color and fabric for outerwear is a known as a suit.  It is a two or three piece outfit sometimes accompanied by a waist coat. Without a suit, a wardrobe of a man cannot be termed as complete. It is the most accepted piece of attire in the globe. It actually marks of one's character, reputation and style with lot of perfection.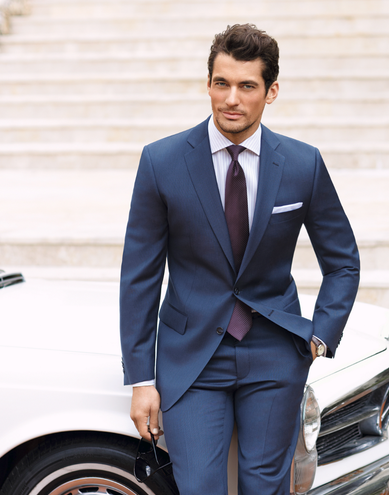 Here are the Types of Men's Suits
Single Breasted is also known as the British style suit. This suit gives a casual look. It comes with only one set of buttons and button holes on the Jacket that doesn't overlap.
The double-breasted comes with two front overlapping across the body. At the back, it has no flaps. It has only four or six button options.
Lounge Suits is a man's formal suit just for ordinary day wear. It looks great with tie or without tie.
Dinner Suits is a black suit with traditional fit and in dark color.
Business Suits comes with stylish in sober color, very formal cut and sharp fits.
Mandarin Suits comes with the band collar. It is worn with full buttons. It givers an elegant look.
Wedding Suits largely vary in silhouettes and cuts. Fabrics used are jacquard, velveteen and other luxury fabrics.
Zoot Suits is popularly known as Jazz age suits. It originated from Africa-American long coats, big lapels and high waist.
Tuxedos is an ultra formal suit. It is apt for any ceremonial wear in personal and professional life.
Men should always pick and wear the right kind of suit in his personal and professional life. They suit wear suit as per the occasion and event. Moreover, the suit should on them really great to grab the attention of others in the crowd.