Hello All,
Most of you know, my favorite Bollywood actor is Salman Khan and I love watching all his movies. There are many interesting facts about this new Salman Khan film. The biggest and the best, though is reserved for the last 🙂
Interesting Facts About Salman Khan's Movie – 'Tubelight'.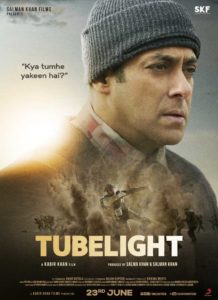 Fact No. 1
Tubelight is Kabir Khan-Salman Khan's next venture after the 2015 mega-hit Bajrangi Bhaijaan. This film is set in the 1960s.
Fact No. 2
The basic thesis of 'Tubelight' is inspired by a Hollywood movie 'A Little Boy' which narrated a little boy's journey to stop the on-going war between two countries and find his missing father from the war site.
Fact No. 3
Salman Khan's character in the film is named Laxman and he is a soldier. He will be playing the role of a slow learner (Tubelight) who beats all his weaknesses to find his brother- Sohail Khan, who went missing post Indo-China war.
Fact No. 4
Tubelight also stars Chinese actress, Zhu Zhu in lead and it will be the first Indian film to release in China side by side India. Films like 3 Idiots, PK, Baahubali and Happy New Year saw a release in China around 6 to 8 months after the release in India.
Fact No. 5
The film also stars Om Puri and Mohammed Zeeshan (remember Dhanush's sidekick in Ranjhana or SRK's friend in Raees) pivotal roles.
Fact No. 6
Shah Rukh Khan has a guest appearance in Tubelight (Yes you read it right!! The Karan-Arjun of Bollywood are back) He would be essaying the role of a magician in the film and the director Kabir Khan has himself said this on Instagram.
These are few of the interesting facts about Salman Khan's movie Tubelight which will be releasing today – 23rd June 2017. Do watch this Bollywood movie and let me know how you liked it. I will be watching this soon with my family.