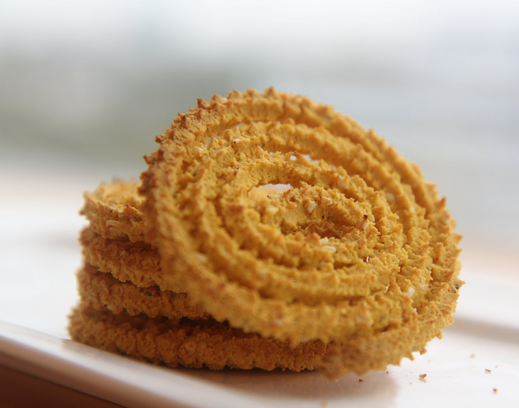 Diwali is round the corner and the craze for Chaklis is predominant in every one's demeanour. It is true indeed that when Diwali comes around, our taste buds are stimulated with the remembrances of delicacies that we get to eat every festival. In the same way, our love for Chaklis also has grown with passing time.
Let us explore the different types of Chaklis:
Chakli made from Rice flour
Chakli made from whole wheat flour
Chakli made from Heeng and Ajwain. This is sure to have a great taste.
Have you tried Chaklis made from peas and avocado, unconventional and revolutionary?
Bajra is itself very tasty. And when you make Chaklis with them, they are excellent.
Chakli made from Ragi or Nachni. Now diabetic people will not have worries taking in this delectable dish.
Chakli is generally fried in oil. However, modern times have come up with a lot of innovations and you can now make baked Chaklis as well.
Chakli can taste great when made with butter.
Indian homes are also coming up with healthy versions of Chaklis. One of them is Spinach Chakli.
The Potato Murukku comes in a crisp countenance ready to win you by the heart.
Chakli made from maida
Chakli made from Moong
Chakli made from Methi
Rava Chakli
Poha Chakli. This is one of the most famous dishes that are common in South Indian households during Diwali.
Therefore, there is no good reason that can keep you away from the great taste of Chakli. You can also try making them at home and take your loved ones by surprise. To amp up the celebrations you just have to blend the Chaklis with love and the aura of festivity and bring smile to everyone's lips.