The splendid lifestyle, our blog is all about the little things that help to make you life more comfortable and worthy. Our main target audience is all the Woman out there. So, with independence day just around the corner I really want to convey that it is very important for a woman to be independent! For being independent in a society like ours, I feel every woman should be educated, have some form of individual income and must own a vehicle and know how to drive! Thus I came across website known as autoportal.com.

Autoportal.com- Exciting Offers and Fabulous Prizes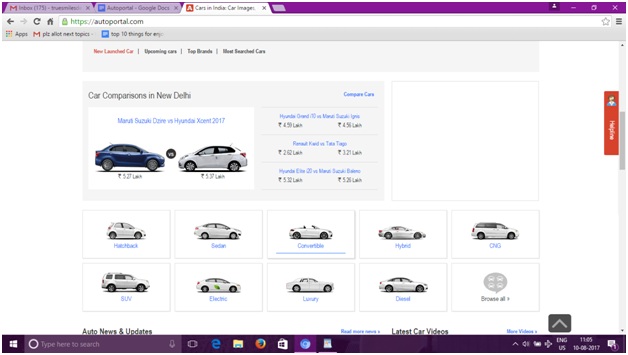 With that idea, let us move to today's post that is regarding autoportal.com, a promising website to buy new vehicles (two wheelers and four wheelers) and to sell out your old vehicles for the best price. Autoportal is an intelligently designed website by a group of people who seem to be technically sound and very passionate about cars. I came across this wonderful website #autoportal.com , when a friend recommended it to me. She has booked a vehicle with them, under the ongoing Independence Day offer.
Their Independence Day offer is very tempting and if buying a new car is on your cards, this seems like a perfect time to book it now, on Autoportal.com. As per this offer, winners can enjoy a stay trip to Dubai or a travel cum stay trip to Goa. The second runner up would get a fabulous 32GB Iphone 6. There are 7 other consolation prizes of INR 500 per head sponsored by ICICI in form of gift cards. To avail the benefits of this vehicle, you need to book a car with them before the 31st of 2017 and fill in the details they ask for.Thereafter, you need to share your offer receipt via Whatsapp at 9953350171. This step would ensure that you are eligible for all the current discounts, contests and promotions in the portal. Please read all the terms and conditions on the offer link provided at the beginning o this paragraph.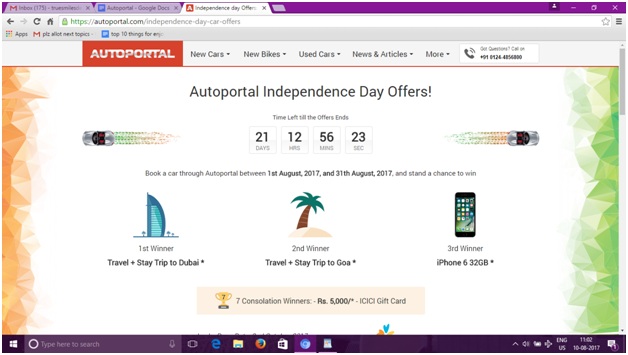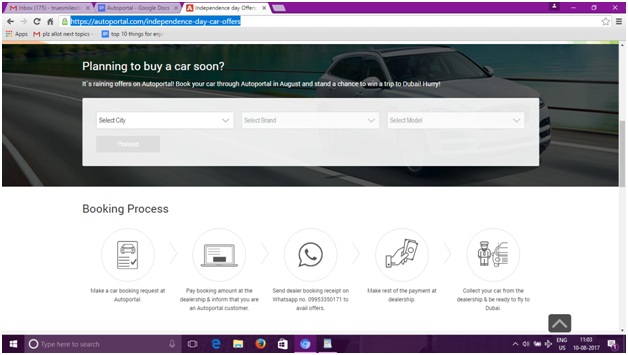 The website has been made in an easy to comprehend format. Even those who have very basic knowledge of computers will understand its layout. Cars and bikes for all kinds of budgets and a lot of different makers are available. They have cars from brands that a lay man prefers like Hyundai, Honda, Maruti, and Skoda to finest models in the Luxury segment like BMW, Audi etc. You get to see many comparisons between cars from different Makes and models.
Just like any good automobile website they make your vehicle buying experience more convenient by inclusion of tools, such as: Car loan options available, options and feasibility to pay for your new car through EMI. When you book a car at autoportal.com, you can be sure that your experience is hassle free as their representatives, provide you complete paperwork assistance. You get to compare and study detailed car insurance plans. Correct information regarding cost and technical aspects of the vehicle has been listed on this website. Also, if you want to visit a dealer, they have listed the car dealers in your city. You can also simply refer to this portal for latest automobile news and updates.
For those of you who want to sell their used cars, they provide a free inspection and evaluation by sending over a person to your home. After a thorough evaluation and a test drive, you can be sure that you are offered an authentic price for old vehicles.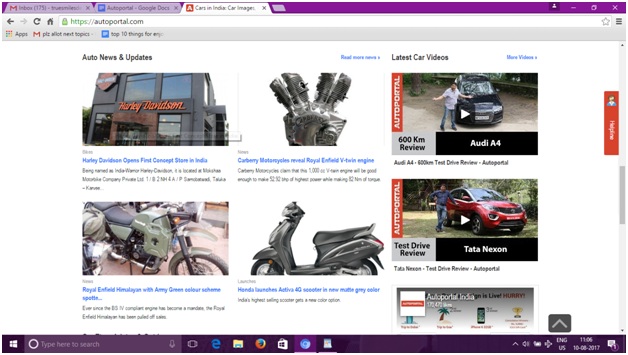 In short, they give you complete #freedom to explore. All in all, Autoportal is a website which is tried, tested and recommended by many of my friends for reliable services, secure payments and hundred percent customer satisfaction.