You are never going to make a wrong choice when it comes to the well being of our little carbon copy. New born are delicate and their body needs regular and intense care, especially when it comes to feeding them.
Breastfeeding is undoubtedly the best choice but in case your naughty little partner does not wants to stay dependent on it or you don't have enough supply of breast feed or your kid does not feel full even after the feed then formula milk powders for kids are the best option.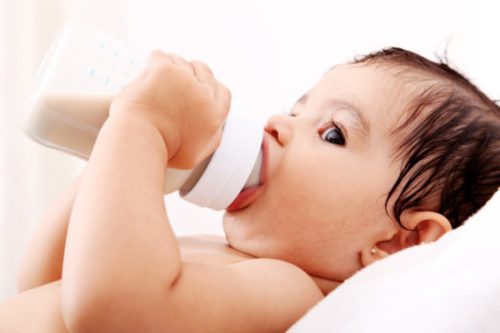 Buying the right infant milk powder is the most necessary thing to be done by you when it is all about the health of your kid. The retail outlets are stacked with lots of options which confuses every parent regarding which one they should buy. Some formulas are iron fortified while others have essential fatty acids. While some are for lactose tolerant, others are for those who require higher nutrition. Finding the best one for your kid is a daunting task because each brand has something different which must be chosen as per the suitability and requirement of your kid. Consult a pediatrician for the best pick.
Best Formula Milk Powders Available In Market For Kids
Here we bring you the list of top brands which you can opt for:
Nestle Lactogen:
Having the brand repo of nestle, lactogen is the best baby powder product in India. The spray dried formula consists of maltodextrin and essential nutrients with whey protein. The nutrients support optimum growth of infants in growing years. According to age group the product is divided into 3 categories named as: Lactogen 1 (upto 6 months of age), Lactogen 2 and Lactogen 3 (above 6 months).
Wockhardt Farex 1:
The infant formula is enriched with essential vitamins and minerals and proteins. You can continue to feed along with Farex for an overall development of your child.
Nan Pro 1:
Another excellent product from nestle which has a blend of fatty acids, immuno proteins and pre blend nutrients to foster better brain development and immunity in newborn babies.
Enfamil A+:
The powder is enriched with clinically recommended levels of ARA and DHA for developing the brains of your child. It also contains dietary fibres along with whey protein. A good pick for your kid's growth which is recommended by most pediatricians.
Aptamil First:
This is the most trusted brand in India which is enriched with prebiotics, nucleotides, anti oxidants and 2 LCP's which provides optimum nutrition. It is also a perfect substitute of milk for babies who do not get their fair share of breast feed.