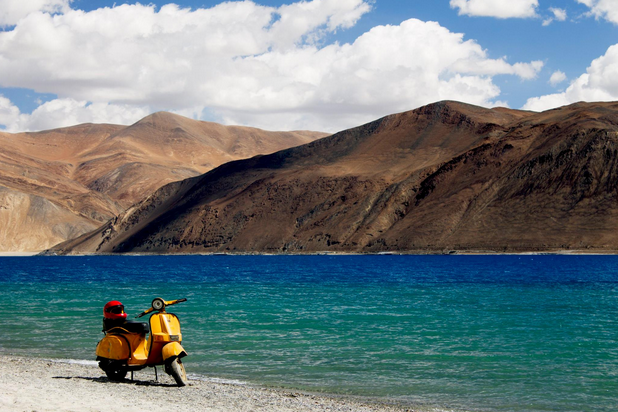 Pangong Lake is the highest Saltwater lake in India.The height of this Lake is around 14270 feet. The length of this Lake is around 160 km, the 1/3 part of this Lake is in India, the remaining 2/3 of this lake is in China.
Pangong Lake
Pangong Lake is a traveler's delight and I feel that each tourist/ traveler must experience camping by the lakeside to enjoy the cool breeze, star-studded sky and the breathtaking views of the Lake, by the night.
Along with camping, do enjoy the barbecues and campfires by the Lake side.
Please dress up snugly as the temperatures at night and by the morning could be really low, say around zero degrees.The sunset here is worth seeing with the most picturesque sky.
Roughly 10 Kms before the Pangong Lake, you shall come across a sign that says, "'Stop here to see rare endemic species Mormot''.
Do take lots of pictures of the exciting moments of having the opportunity to be by the side of the highest Saltwater lake in the World.
In Winter's, the Pangong Lake turns solid and this place offers an option of ice skating.
If you have a strong immunity, a dip in the Pangong lake, be it a quickie is definitely not a miss.Please make sure that your body does not have a tendency to catch cold frequently.
The Lake water is sparkling clean and you can actually see the reflection of clouds in it.
The mountains surrounding the Lake are White and Brown in colour, which in itself is a rare nature's artwork you get to witness.
Do capture a few snapshots of Bar headed goose and brahmini ducks around the lake.