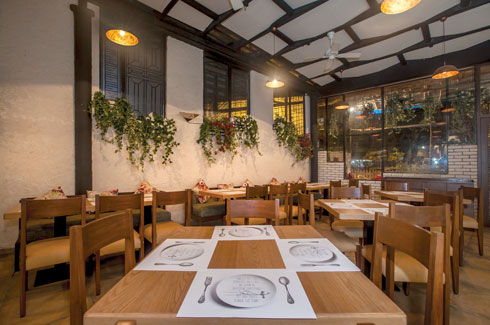 Family tree is a casual dining restaurant located in Panch Pakhadi in Thane.The cuisines served here are:Italian, Mexican, North Indian and Chinese. This is a Vegetarian restaurant.This one restaurant that has a living room inspired interiors.The lighting here is warm and comfortable with predominantly Yellow lights.This makes the aura of the restaurant very relaxed.I loved, loved the chairs which have backs painted with faces symbolic of family members.Like they have a Mummy, Papa, Grandmaa, Grandpaa chair. Kids would really enjoy this fun seating arrangement.The kid in me loved this little game, as well..I must admit !!
The walls have shelves like we used to have in Indian drawing rooms, some 15 years back.The ceiling has hanging lights, rustic pipes.The walls are adorned with beautifully engraved, antique finish mirrors and picture frames. The sofa style seats have beautiful floral prints. All of these decor elements come together to bring in an old-worldly charm to this place.
Another key motto of this restaurant is that they want you to visit this place with your entire family.The plates say a beautiful quote," Together is our favorite time to be".
I found the place very pleasant and comfortable.The staff was quick to take orders and served the orders, quite quickly which is commendable.The food presentation was excellent as they say, you taste with your eyes first and tongue second.The appearance of the dishes was nothing short of mouth watering.
Well Spent Afternoon With Delicious Food at Family Tree – Thane
Here is a brief of what all we ordered.
Watermelon and Feto salad
veg abu dhabi
Tandoori Roti: 
Toffee Apple Tart: 
Aamras with Vanilla icecream:
I visited this place with my hubby and my son and I loved this place so much that in my next visit I will surely bring my in laws too.