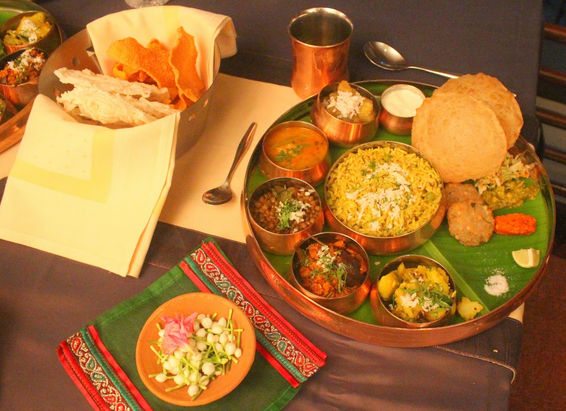 Heya All,
This year, we will celebrate Karwa Chauth on 19th October 2016. Earlier Karwa Chauth was popular only in North India but now throughout India specially you beautiful ladies who got married in past 10 years also celebrate this festival no matter from which location of India you are from.
My mom is South Indian and we never celebrated this festival. I got married 5 years back to a North Indian family and it's one of our important festivals. On my 1st Karwa Chauth my mom in law told me that it's important to prepare Kadhi as it's offered to moon god and later consumed as prasad. Rest I can prepare anything I wish. Initially I was very confused but somehow I managed.
On my 1st Karwa Chauth, I prepared 11 dishes for my dearest hubby and yes among these dishes majority are my favorite too.  Here are easy and best recipes for this Karwa Chauth.
Recipes For Karva Chauth:
Pua
In Uttar Pradesh we prepare Pua in Karwa Chauth. Its sweet dish and prepared from wheat flour and sugar. Pua has loads of religious significance.
Moong Dal Kadhi
We usually prepare kadhi from besan or gram flour. Instead of besan we can give little twist to this karwa chauth by preparing moong dal kadhi. You can also make moong dal pakoras and dip in kadhi.
Gujarati Special Aloo Subzi
Aloo or potato subzi is very popular in Gujarat. Usually Gujarati don't include onion or garlic in their food. You can make Gujarati Special Aloo Subzi in which yogurt is used to give tangy flavor while this recipe is mix of spicy, sweet and tangy flavours.
Methi Paratha
Methi means fenugreek and Methi paratha is healthy, easy and best recipe for this Karwa Chauth. You can even make methi poori as here in North India especially in Uttar Pradesh, we ladies who apply fresh sindur on karwa chaut don't eat tawa roti or paratha.
Sindhi Sai Bhaji
This is another unique and best recipe for this Karwa Chauth. This bhaji is prepared from 3 different kinds of leaves. 3 leafy vegetables used are dill leaves, chana dal leaves and palak leaves. You can even make this recipe without onion and garlic.
Paneer Chana Masala
This recipe is very easy to make and gives richness to your plate too. This recipe is spicy and tasty vegetarian delight for this Karwa Chauth.
Rajasthani Palak Mooli Sabji
This sabji can be prepared very easily and it tastes very nice with poori or rice. At end use dry mango powder to give tangy flavor before you turn off flame.
Vrat Ka Halwa
This dish is prepared by combination of water chestnut flour and buckwheat flour. This is extremely unique and best halwa for Karwa Chaut.
Churma Ladoo
This ladoo is very famous for its richness. It's prepared from coconut, wheat flour, sesame, ghee and jiggery. You can make this ladoo very quickly and without much preparation.
Malai Gulab Jamun
Gulab Jamun is very popular Indian sweet dish. This festival gives twist to simple gulab jamun by adding malai to it.
Peanut Barfi
Peanut Barfi is healthy and unique sweet dish for this Karwa Chauth. You can make this barfi from very less ingredients.
I hope you loved 11 recipes for this Karwa Chauth. Do share your recipe if you have any before Karwa Chauth will surely publish them in our blog.